Segregation in Maternity Wards

Record Turnout at Jerusalem Pride

Shooting Prompts National Debate

Putting Out Wildfires Together

Standing for Religious Freedom

Rejecting Political Litmus Tests

I would like to stand for a better Israel.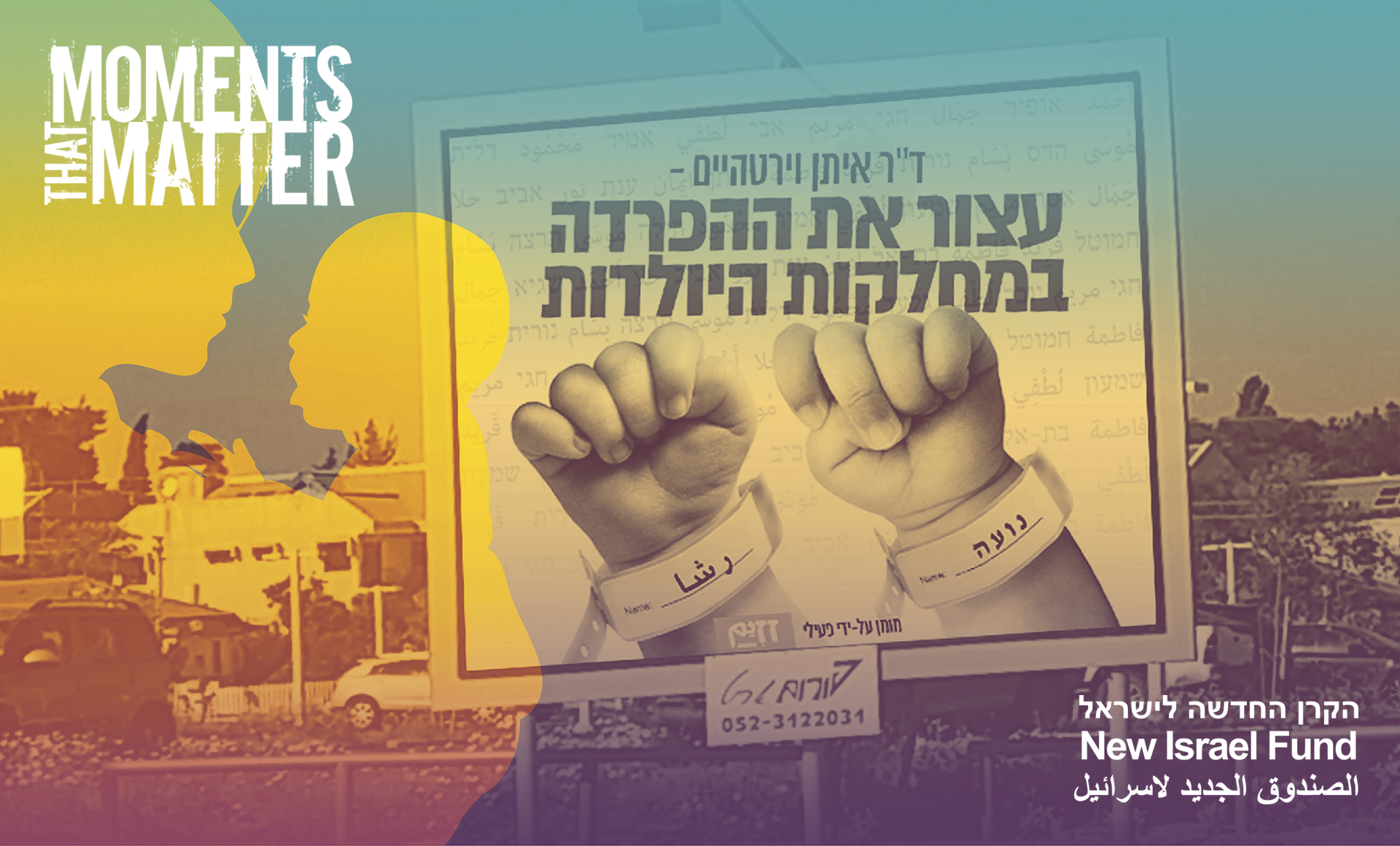 What happens when ethnic segregation at maternity wards is exposed?
A report by an Israeli radio station on institutional racism shocks the public. Progressive activists spring into action. They send a powerful message—they win—and they use the moment to build networks for future victories.
The Moment
In April 2016, Israeli radio reported that hospitals all over the country were separating Jewish and Arab women in maternity wards: Some hospitals did this proactively while others did so when requested. Either way, the exposé revealed that this kind of segregation was far more common than anyone imagined.
MK Bezalel Smotrich, of the far-right Jewish Home Party, came out in support of this practice. "It's natural that my wife wouldn't want to lie [in a bed] next to a woman who just gave birth to a baby who might want to murder her baby twenty years from now," he said. "Arabs are my enemies and that's why I don't enjoy being next to them."
We Responded
The news of hospital segregation galvanized the members of Zazim-Community Action, a moveon.org-like organization incubated and launched last year by NIF as part of our New Initiatives for Democracy.
Zazim's first response to the scandal, a petition to hospital executives demanding an end to segregation policies, garnered over 2000 signatures in just a few days. Together with Physicians for Human Rights-Israel (PHR-I), Zazim then raised thousands of shekels, mostly in small donations from concerned Israelis, for a series of billboards near offending hospitals with the message, "stop the segregation in maternity wards."
One of these billboards, outside of Meir Hospital in Kfar Saba, drew the ire of city officials who said that it "offended public sensitivities." When local authorities took down the billboard, the media attention only grew stronger.
The pressure from Zazim members was unrelenting, and ultimately, it worked. The courts forced the hospital to meet with the campaign's organizers to discuss steps to prevent segregation. As a result, PHR-I was invited to run anti-racism trainings for hospital staff. Zazim was able turn up the volume on shared society when it was needed most, amplifying the voices in favor of Jewish-Arab equality.
We Were Ready
Since NIF's inception, our work to combat discrimination and to bridge gaps between Jews and Arabs, has been vital to protecting Israel's democracy. But with a rising tide of racism and extremism, we responded by identifying new tools that progressives in Israel needed. That included the development of a new platform for Israelis to take action together, one that could leverage the right moment to make a lasting impact.
Zazim was designed to mobilize in response to moments like this one. Using online organizing tactics, this platform is able to connect thousands of Israelis and bring the important work of combating racism and other issues in the progressive consensus, to the critical mass of people who can and should make a difference. Ordinary Israelis participate in creative campaigns—and even determine what those campaigns will be about in the first place.
Zazim turned up the volume on shared society when it was needed most, amplifying the voices in favor of Jewish-Arab equality. Today, through this anti-segregation campaign and dozens more like it, Zazim has drawn in more than 40,000 grassroots members who have taken action. Many of them have also chipped in to raise more than 100,000 shekels so far this year. And by the end of 2017, Zazim aims to reach as many as 80,000 members (roughly 1% of the population of Israel).
This means a better mobilized progressive movement, one that both leverages moments of crisis to bring Israelis together to drive immediate change and one that makes it easy for these same Israelis to come together again and again in support of a more inclusive, more just Israel.